Founder of Bread Alone and author of "Living Bread" Winner of the 2020 James Beard baking book award.
Bread Alone Bakery | Organic Breads and Fine Baked Goods Since 1983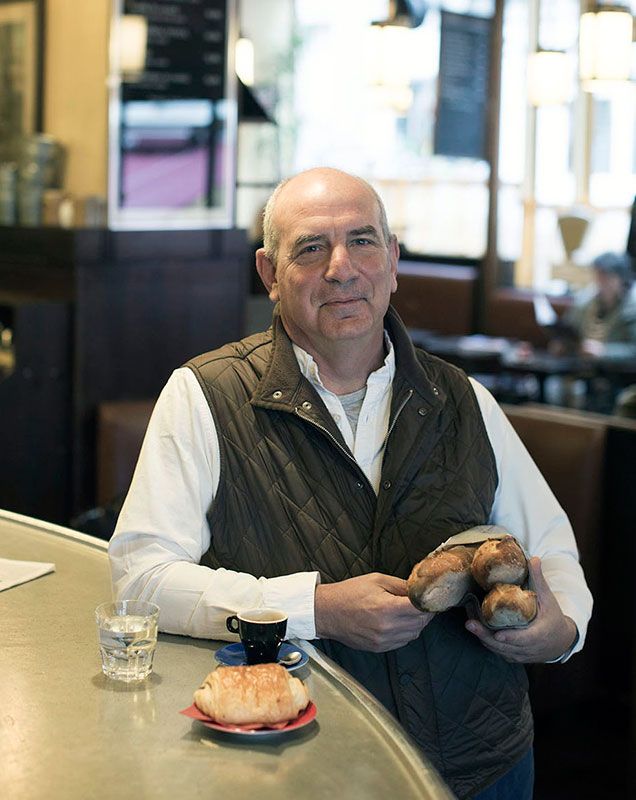 1. How would you introduce yourself to someone who does not know you?
These days as Bread Alone is quite well known I usually just say I am the founder/chair of Bread Alone.
I say I've been baking simple, honest, wholegrain certified organic hearth breads for 37 years.
2. What is bread for you?
Bread is a fundamental food that is appreciated by all kinds of people in many different cultures and something we all can eat and enjoy in a healthy way.
3. Your first memory when it comes to bread?
Going with my grandfather to pick up eastern european style rye bread from a deli in Buffalo NY. It was a childhood andenture.
4.our way to baking/bread?
I was a chef working in French restaurants in NYC. One August I went to France to visit a colleague and he took me to visit a village boulangerie, the baker asked if bread like this was popular in the states.
5. What does baking mean to you?
It binds me to a timeless profession and food that is loved by so many
6. What are you thinking when/whilst baking?
So many things, the meaning of life, listening to the latest music, waiting for the sunrise, places I've been or places I want to go. Always music is playing.
7. What do you think about the industrial development of baking, the baking business?
Its inevitable, people want good bread, industrial automation of craft practices has improved greatly so it is a way to get more bread out there.
8. What is your favourite flour?
9. What happens with you when you smell freshly baked bread?
Its magic, I can be anywhere at that moment.
10. With whom do you like to share your bread?
11. Is there anyone with whom you would love to break bread?
Obama, Biden, Mandela, John Coltrane, Winston Churchill
12. Has bread a spiritual meaning for you?
In a grounded way, it's like great music or a perfect sunset.
13. Who is your favourite baker besides yourself?
14. How much should a kilo of good bread cost? How much is good bread worth?
7/8 Euros. Maybe 10-12 Euros
15. Are you a rye or wheat person?
A gift to do good work, now that I am a grandfather watching the grandkids grow it seems all is in hyperspeed.
17. What is indulgence for you and which role plays bread in it?
It makes all food better!
18. Did your kids inherit your passion for bread?
YES, my son Nels is running Bread Alone now. My daughter Liv is a great cook and baker and my younger son Noah sends me photos of bread he bakes in his apartment in NYC,
If you are interested in using our photos and texts for your website, please do not hesitate to contact us.
In addition to good bread, we also love all other foods and drinks and know how to present them in an emotional, contemporary, customer-friendly and, above all, enjoyable way.
We would be happy to offer you communication advice that is specially tailored to your corporate goals, products and services.
We work internationally and in three languages: German, English and French.
Contact:
Joerg Lehmann
Telefon: +49 151 61 11 59 41
Email: mr.joerg.lehmann@gmail.com